Written by:  May Mc'Causland
Narrated by:  May  Mc'Causland y Gustavo Angarita Jr.
Recorded and Postproduced by: Simón Jaramillo de Vinilo Estudio. 
Hello humans! Already living the Expedition I have compiled some photographs, videos and links from our third day. How we got to Playa Piangüita and met our talented hosts who taught us about life in the sea and in its mangrove ecosystem.
I share several links of the recommended routes on the interactive map.
Thank you all for listening and reading.
We are happy to hear from you and we will be attentive to your messages.
See you soon to continue reviewing La Mochila Desgualanga'.
​
How we got to Piangüita Beach
Understand that life moves between tides
Piangua and Mangrove Ecosystem
The traditional crafts present in their communities
Our hosts
The multitasking women and the logistic producer of the visit
Sound Journey: The most important Afro festival in Latin America
Listen to the fascinating voice of Gustavo telling us about his experience at the Petronio Alvarez Pacific Music Festival.
Valle del Cauca our guest department
How we relate the department of Valle del Cauca with the air element
Fun Fact: Farewell Rituals in the Pacific
Listen to May while she talks about the rituals of farewell to loved ones in the territories
The promises of the Podcast  
HOW WE GOT TO PIANGÜITA BEACH
 It all started at the Buenaventura dock where we boarded a boat to Piangüita Beach thanks to our friends from the National Navy and Sandra Garcés from Fundaproductividad, who again put us in contact with Siber Cambido, community leader and logistic producer on the third day of expedition. Thank you all!
While we waited for the boat of the National Navy
While we waited for the boat of the National Navy
Loading our backpacks in Piangüita
Siber, who welcomed us on the beach, had everything ready for us: characters, production base, food and hydration, in short, better cared for impossible. He was not only that perfect host in the territory, but someone who believed in Appellation of Origin.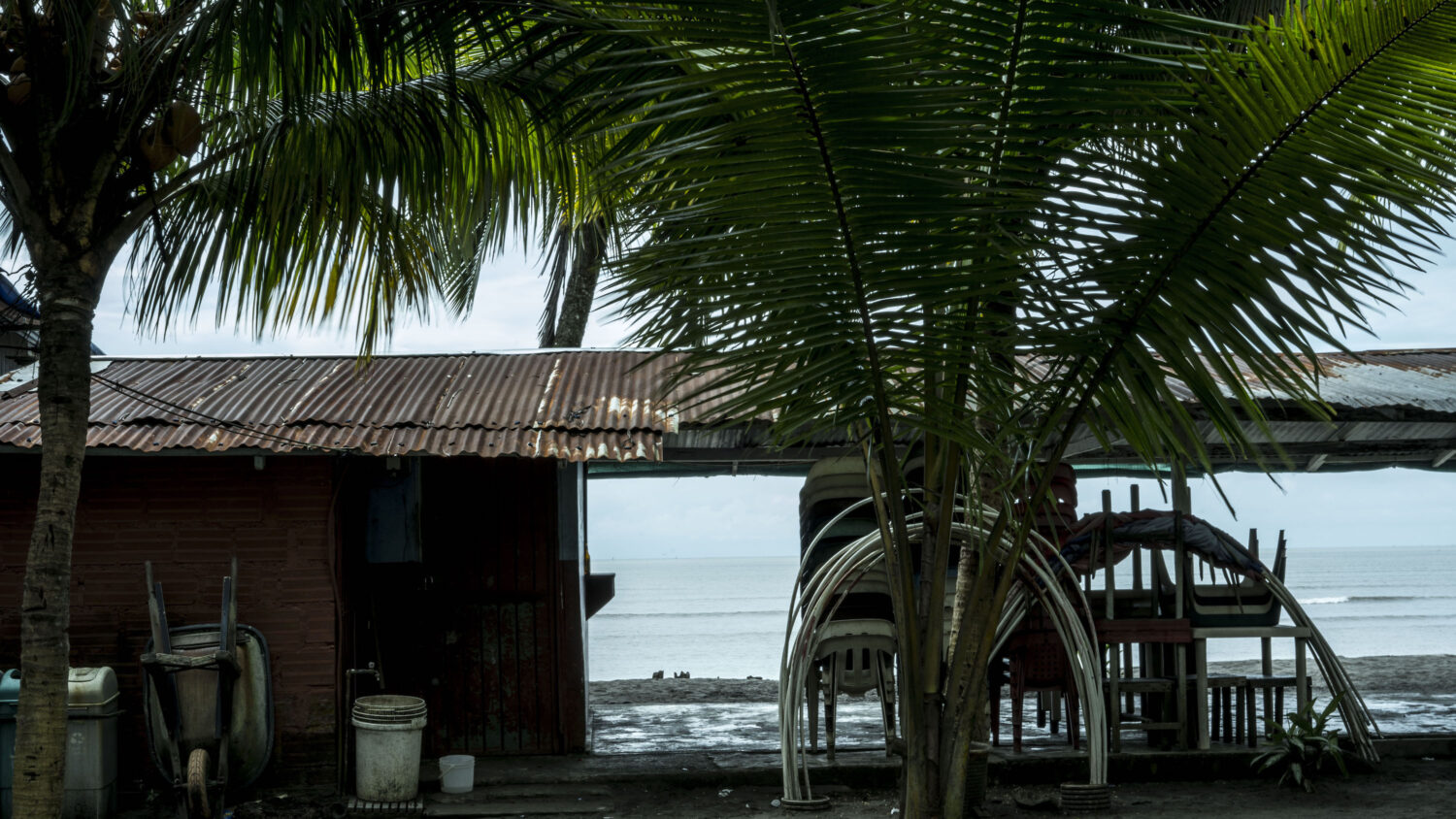 This is how Piangüita Beach received us
Siber Cambindo is part of the Community Council of Black Communities in Bazán Bocana and is a forerunner of caring for the environment, its beaches, the mangrove ecosystem and responsible tourism. He is also, connoisseur of the traditions and guardian of them, like Margarita Hurtado, our star.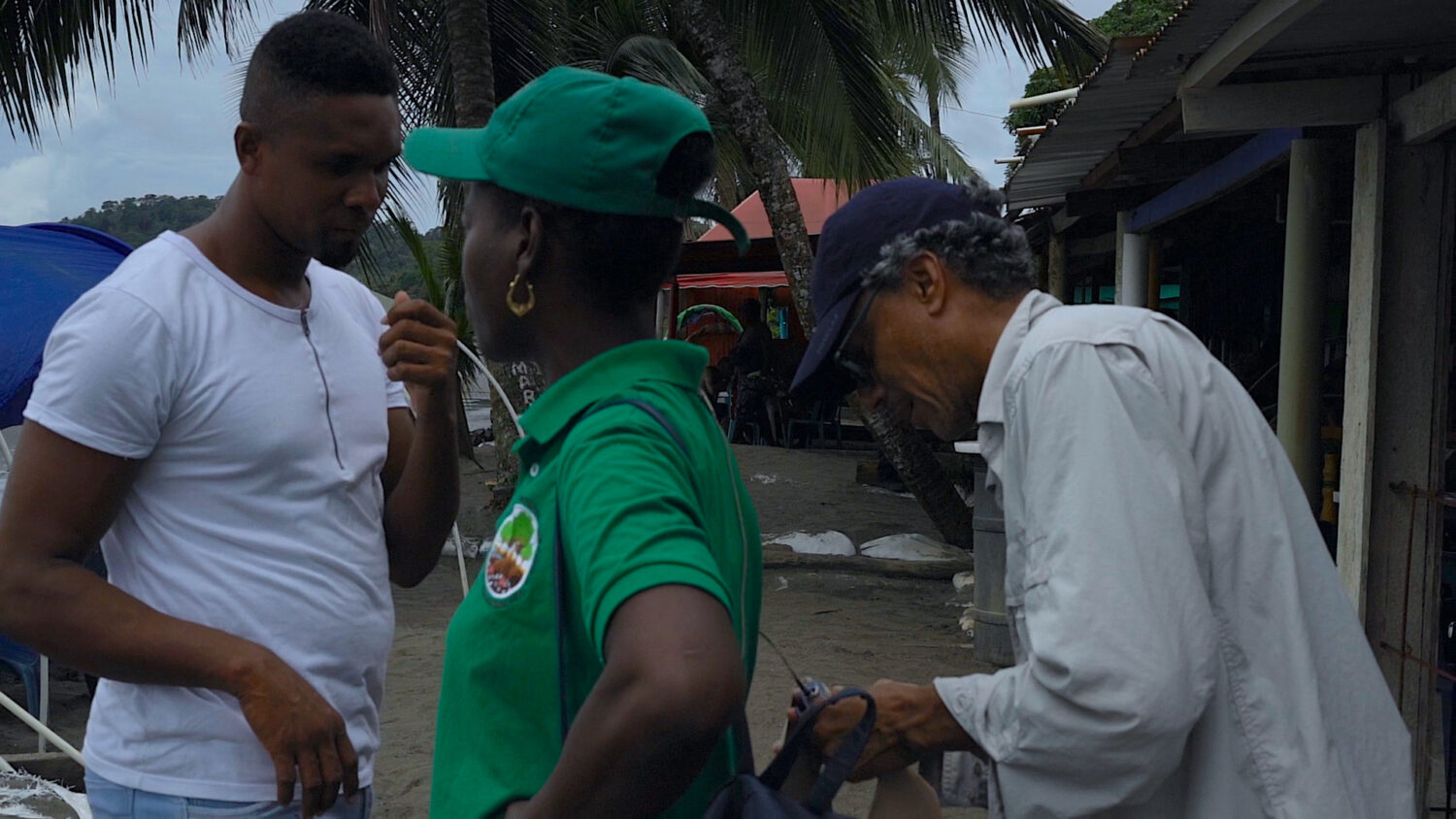 Siber Cambindo, Margarita Hurtado and Cesar Sálazar preparing sound
DOWNLOAD TRADITIONAL RECIPE
PIANGUA AND MANGROVE ECOSYSTEM
Margarita Hurtado, cultural leader, mother head of the household, pianguera, teacher of the Despertar del Folklore group, poet and singer; She gave us her time by letting us know the traditional trade undervalued by many and admired by those who know her. Pianguamos with her in the mangrove swamp.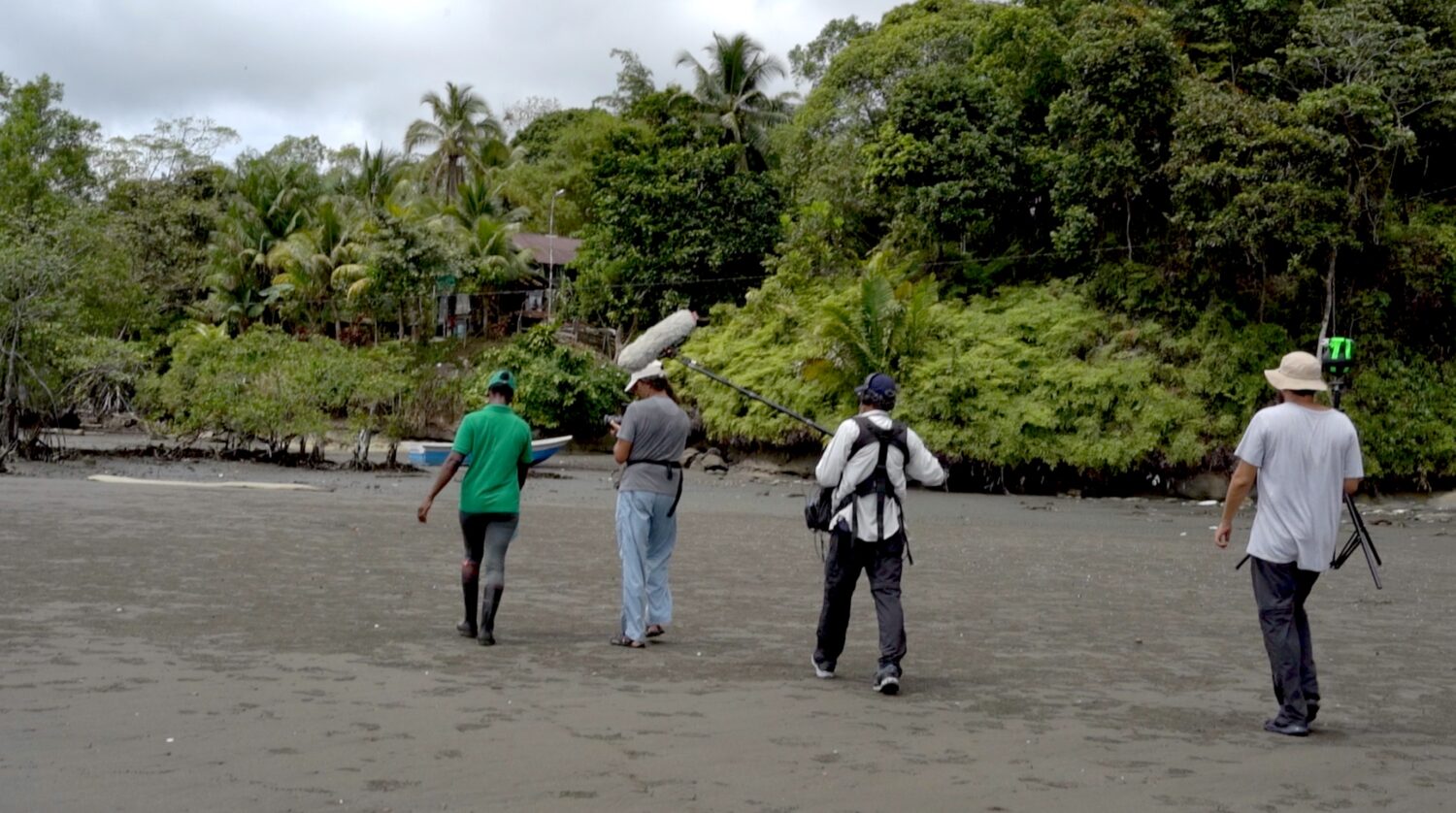 Walking towards the mangrove ecosystem
While Margarita told us myths, legends and collected piangua, we all listened, took notes and did different tasks. We made three recordings behind the scenes, shot some other material and did the 360º.
We recommend the tour of Piangüita Beach and the 360º Mangrove Ecosystem. Enjoy it!
LIVE THE COMPLETE EXPERIENCE OF THE THIRD DAY OF OUR EXPEDITION
Here you can find the chapter of Logbooks, Characters from the Pacific and the podcast that has to do with the visit to Juanchaco. You have to see it!
Mangrove Ecosystem in La Bocana
On the way to the mangrove
Up close with the mangrove
The pianguas of Margarita Hurtado
Team interviewing Margarita Hurtado
Sunset at Playa Piangüita, divine!
Margarita Hurtado says goodbye to us singing by the Piangüita Beach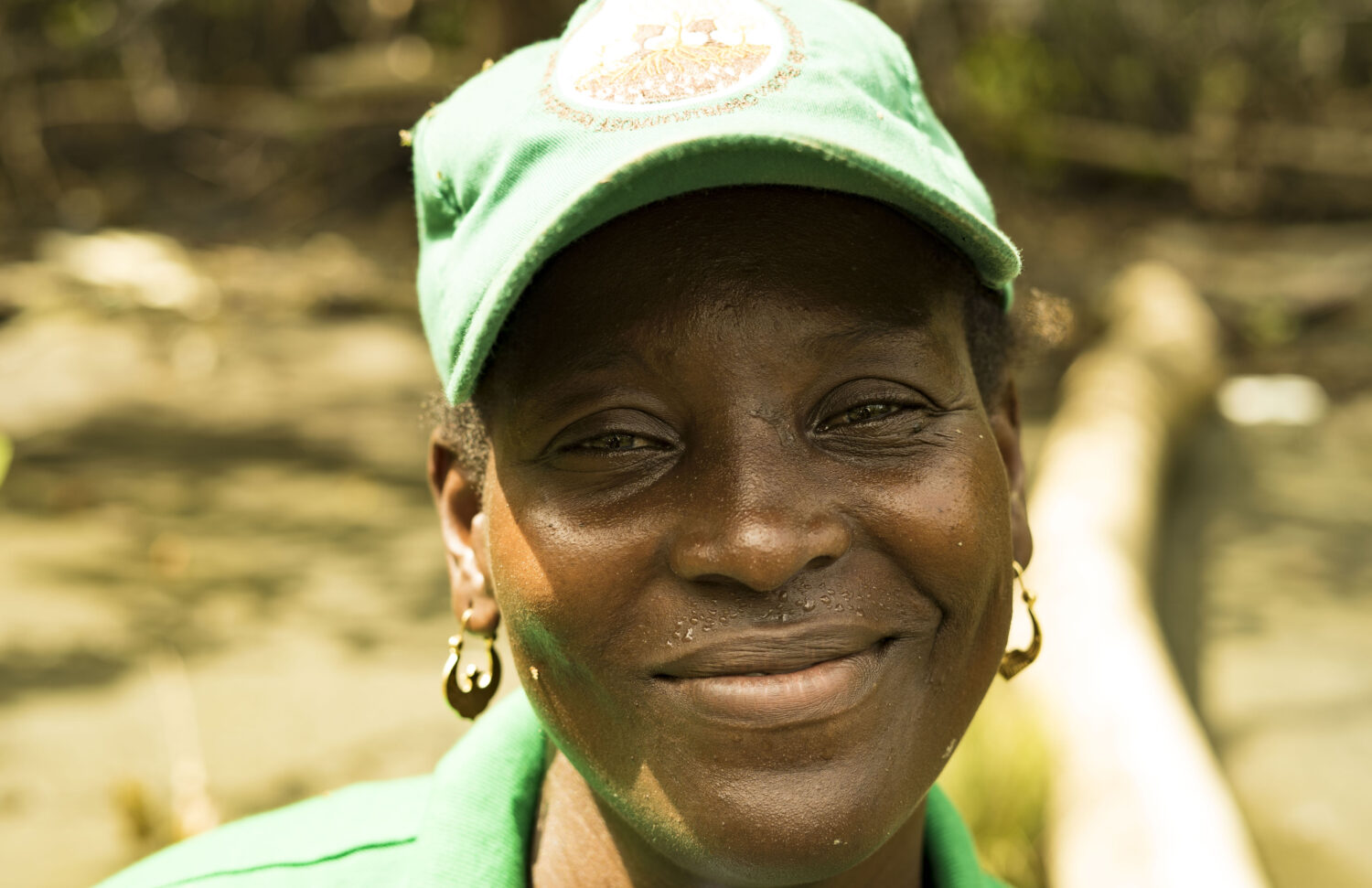 MARGARITA HURTADO
Pacific Multiactive, Entrepreneurial and Active Women's Association
Celphone: +57 320 4307484
location: Playa Piangüita, Buenaventura
After our magical moment in the mangrove enjoying the company of Margarita, it was time for the famous Fish Sancocho (traditional fish soup) prepared by Francisca Renteria, better known as Doña Pachita, she told us about her love for cooking and traditional trades. She is recognized for being one of the first inhabitants of Playa Piangüita and she explained how over the years the beach has changed. Pachita is a cajambreña woman who partakes, cooks and hunts in the jungle. Listen to the story on the podcast.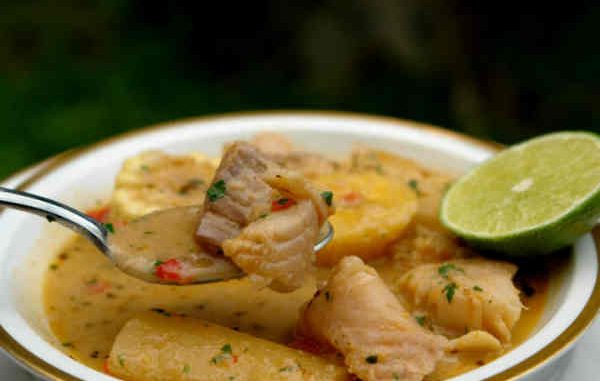 Doña Pachita's Fish Sancocho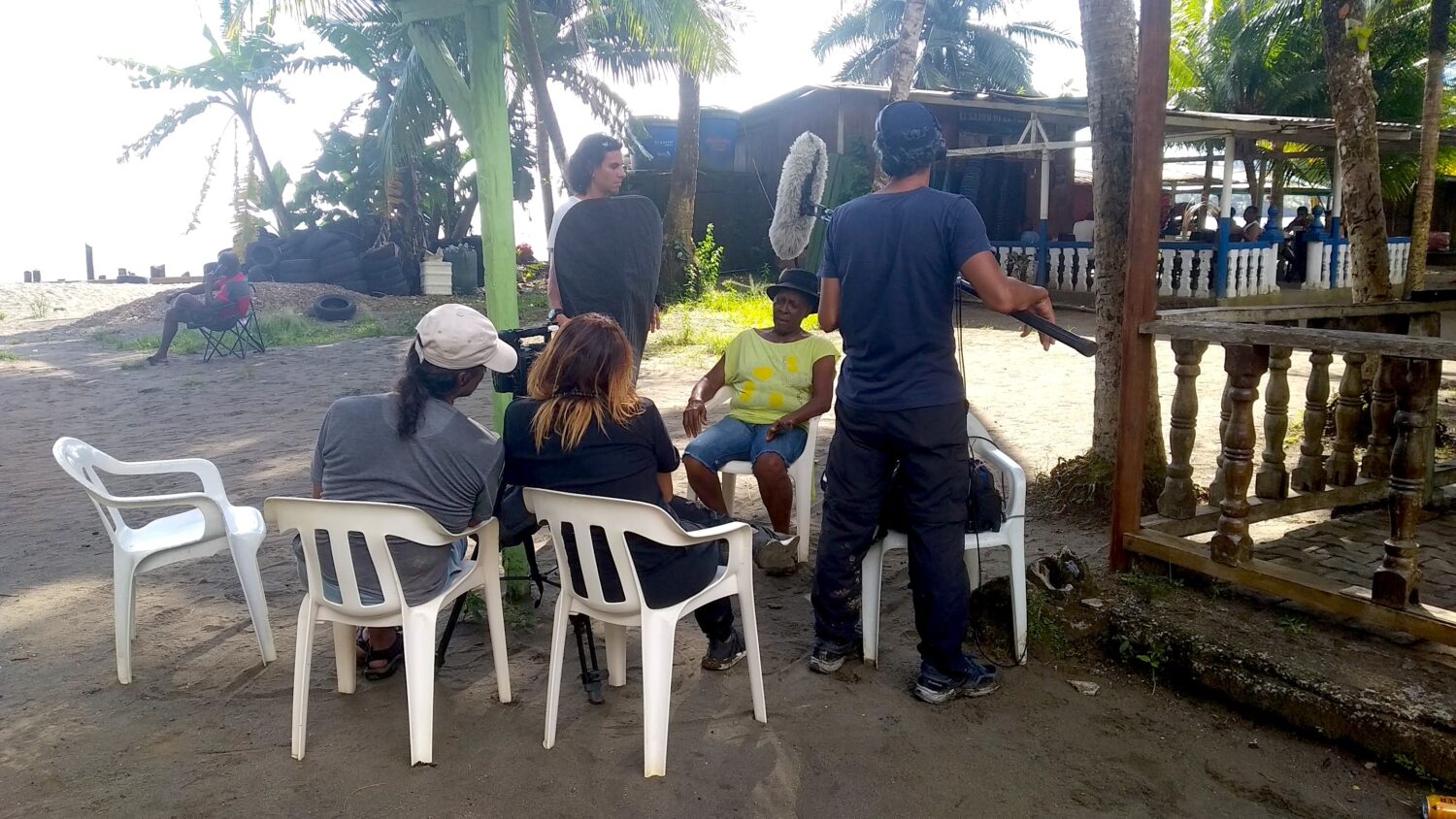 Interviewing Francisca Renteria, the culinary artist of this great Fish Sancocho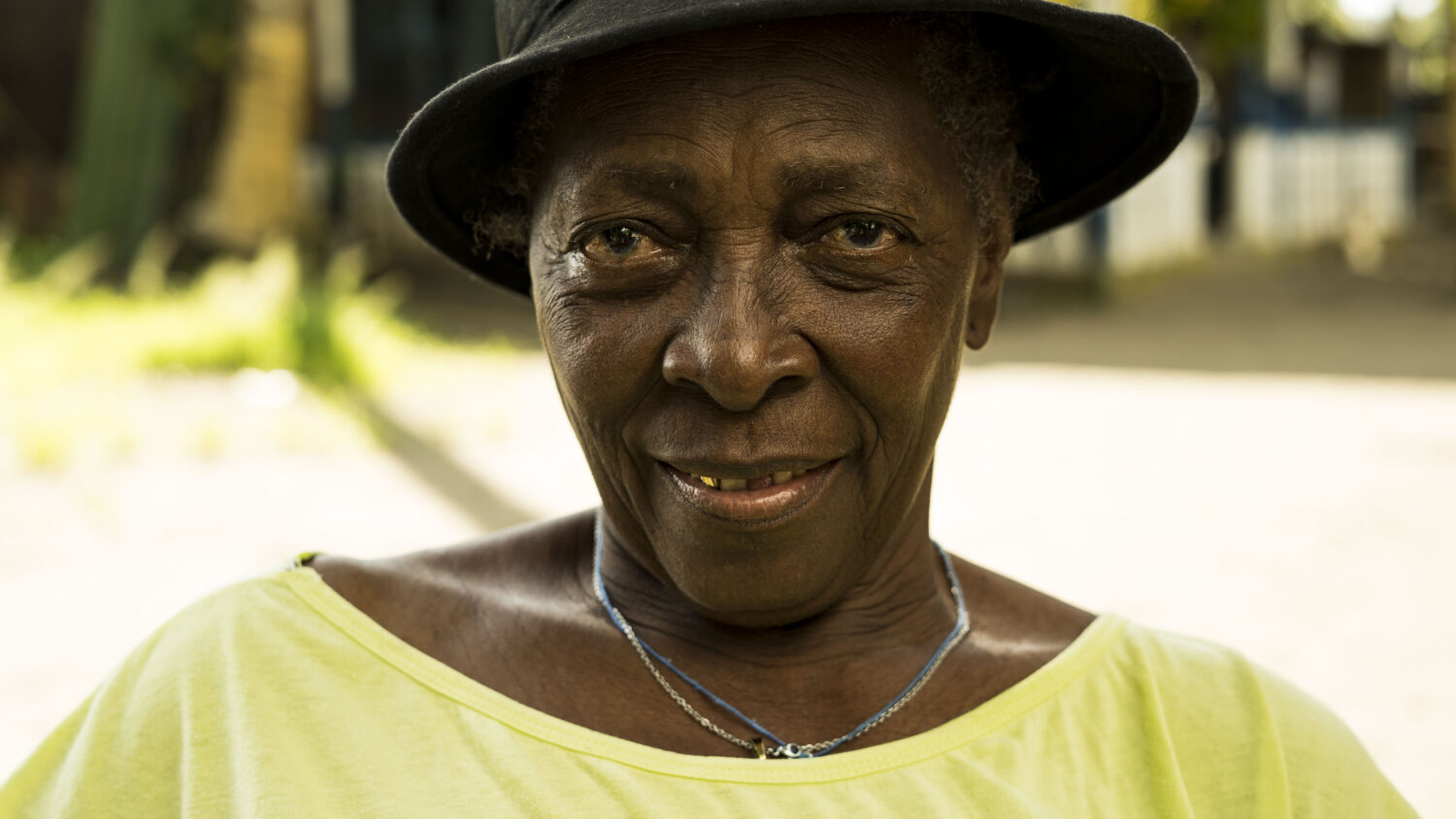 FRANCISCA RENTERÍA 
Traditional Cook
Celphone: +57 320 7445286
Ubication: Playa Piangüita, Buenaventura
Francisca, who encouraged us to investigate the famous'Mal de Ojo' (Evil eye) if you want to know more about what it is about, listen to the podcast and learn where to go if you suffer from it.
Being born and dying in the territory are events that for the Afro and Indigenous communities have a very strong spiritual connotation that is manifested socially. That is why this episode has focused on the cousin, brother or friends farewell … Enjoy the podcast of those songs. People that sing to life and death!
Remembering each step through the Colombian Pacific, we share that first meeting with Hugo Candelario, in Cali.
Hugo Candelario tells us about his origin at his studio in Cali
GRUPO BAHIA YOUTUBE CHANEL
I recommend Grupo Bahía YouTube channel led by Hugo Candelario
Nidia Gongora, friend, singer, cultural leader and teacher, is a woman with whom we have built a friendly relationship since the first day she met APPELLATION OF ORIGIN: COLOMBIAN PACIFIC. A great woman to whom we owe a lot. Thanks Nidia!
This was a memorable moment. Nidia signed us the compilation of SALGAN RÍOS DE MIS OJOS Y CIELOS OIGAN (Rivers come out of my eyes as heaven listens), inspiration for this podcast.
That same day I left with a complete KIT: The last CD andLP of Mar y Río of Canalón de Timbiquí, an album with which they were nominated for the Latin Grammy Awards 2019, produced by Llorona Records and Fondo Acción and also with the genuine Viche Curao made by Viche Positivo. 
Get to know it and acquire it: De Mar y Río, wonderful!
Nidia is not only the leading voice of Canalón de Timbiquí, but is also the 'Queena' and the heart ofPacifican Power, Collective, which brings together the best exponents of the Pacific. Musicians that we admire a lot and that every time they go on stage in Cali I'm there. They are lovely!
I recommend this song that every time it plays, Nidia Gongora knows that I love it:
MV De Mar a Mar (From sea to sea)
Download this CD, it's a hit
La Pacifican Power: Meet the hottest combo in the Pacific
AN INTERESTING ARTICLE ( article in spanish)
 For all our LATIN AMERICAN friends who listen to us and who surely every time they listen to this song their skin bristles, I leave you this song from Calle 13 – Latinoamérica, winner of the Latin Grammy Awards in 2011 as song of the year.
''Un pueblo sin piernas pero que camina" (People without legs but that walks) that is the Pacific, Colombia and Latin America.
SOUND JOURNEY
The most important Afro festival in Latin America.  Festival Petronio Álvarez
 The celebration that we have not missed for 4 years and that since 1996 was installed in Cali as the most important party of Afro Culture in Latin America. The wonderful Pacific Music Festival or better known as «Petronio», dedicated to extolling the culture and folklore of the Colombian Pacific that is lived and felt in Cali. Every August and September La Sucursal del Cielo (Heavens branch office) is taken.
Mauricio Vidal and Gregorio Amú from Fusión Pacífico restaurant on the first shoot, August 2017
Willian Angulo rehearsing before going onstage at Petronio 2017
In the middle of filming at the Petronio Festival, following our friend Willian Angulo of Herencia de Timbiquí
The evidences of the enjoyment of 4 years at Petronio Álvarez each year with my dear friend Edna Liliana Valencia 
2019 With Edna and Yuli (Nidia's sister)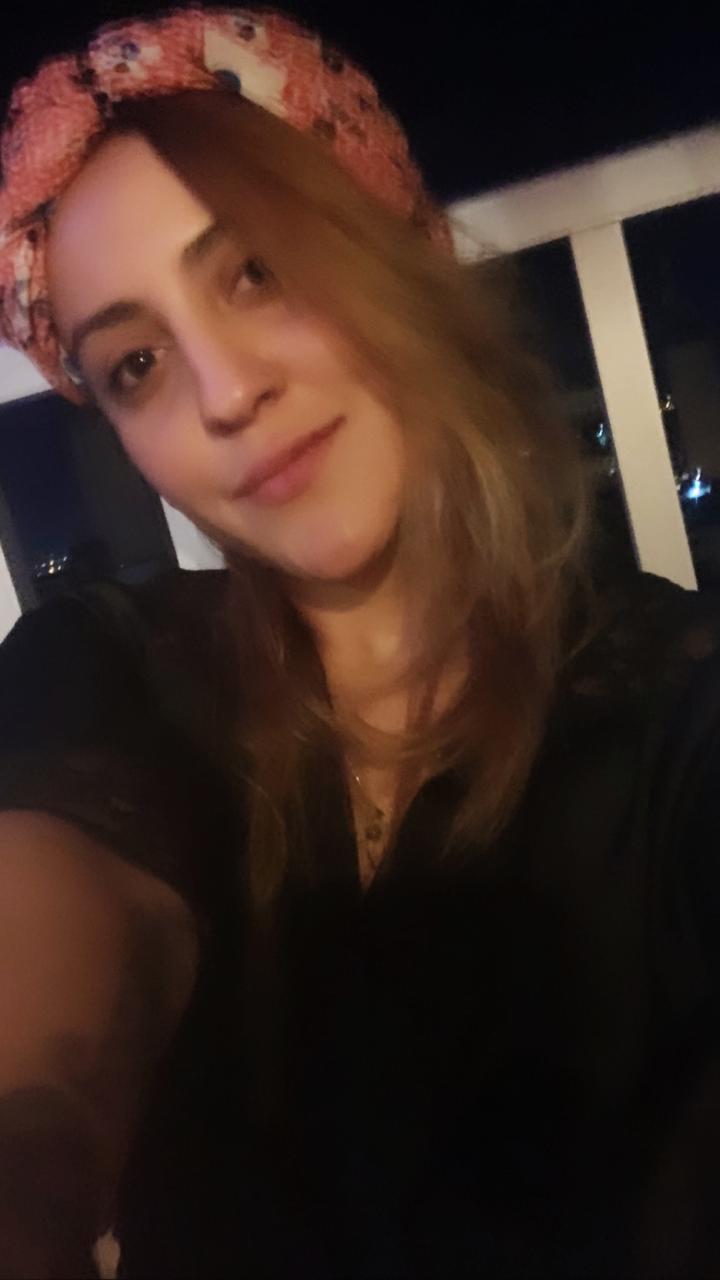 2020 / Living the Petronio from home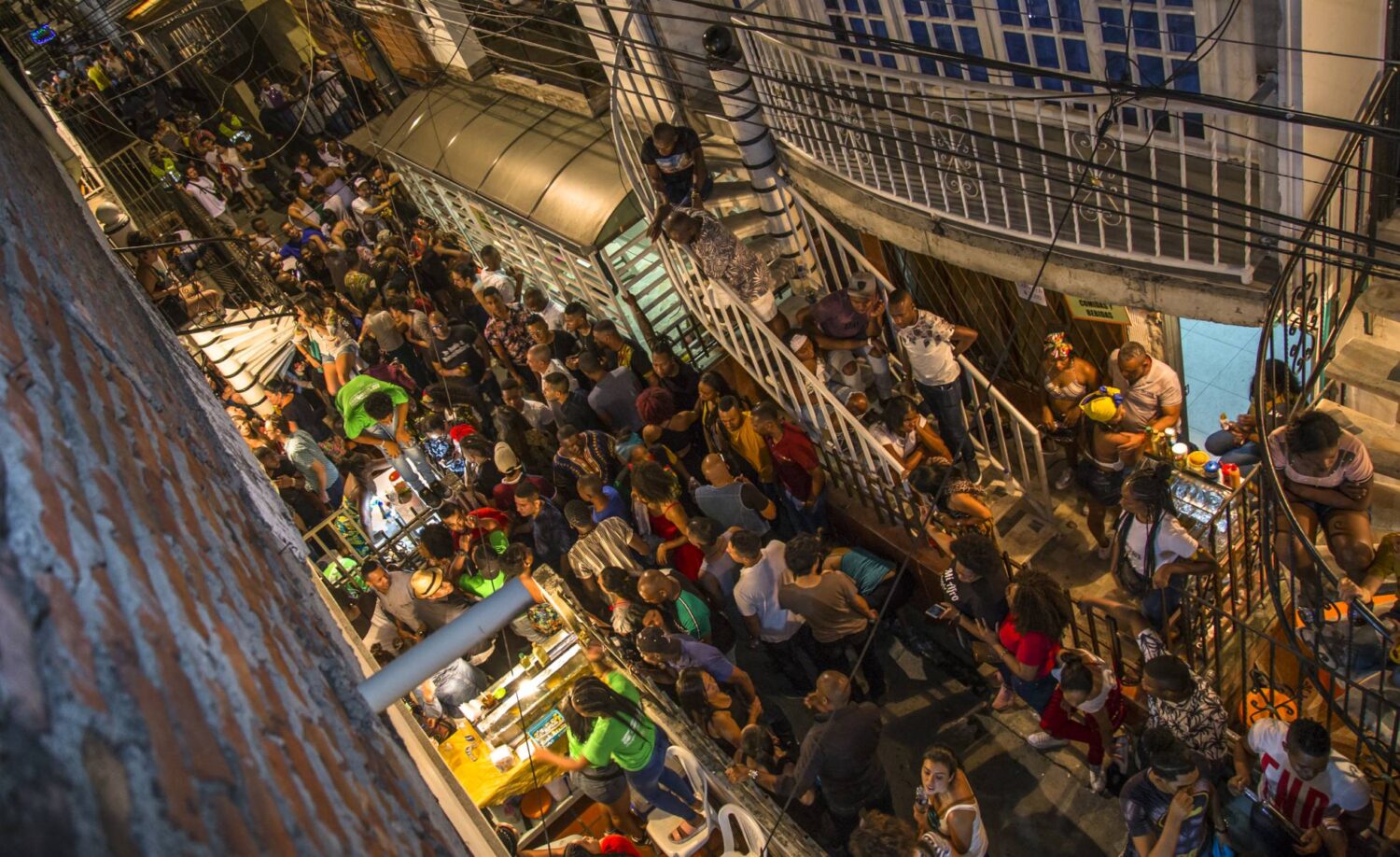 A street is dressed in Pacific. That is the unmissable ARRULLO EN EL BARRIO in Córdoba city, the official afterparty where we all sing and dance in community.
VALLE DEL CAUCA OUR GUEST DEPARTMENT
VALLE DEL CAUCA we have identified it as the AIR element, this is its symbol within the Appellation of Origin: Colombian Pacific, listen to it in Gustavo's voice in the podcast.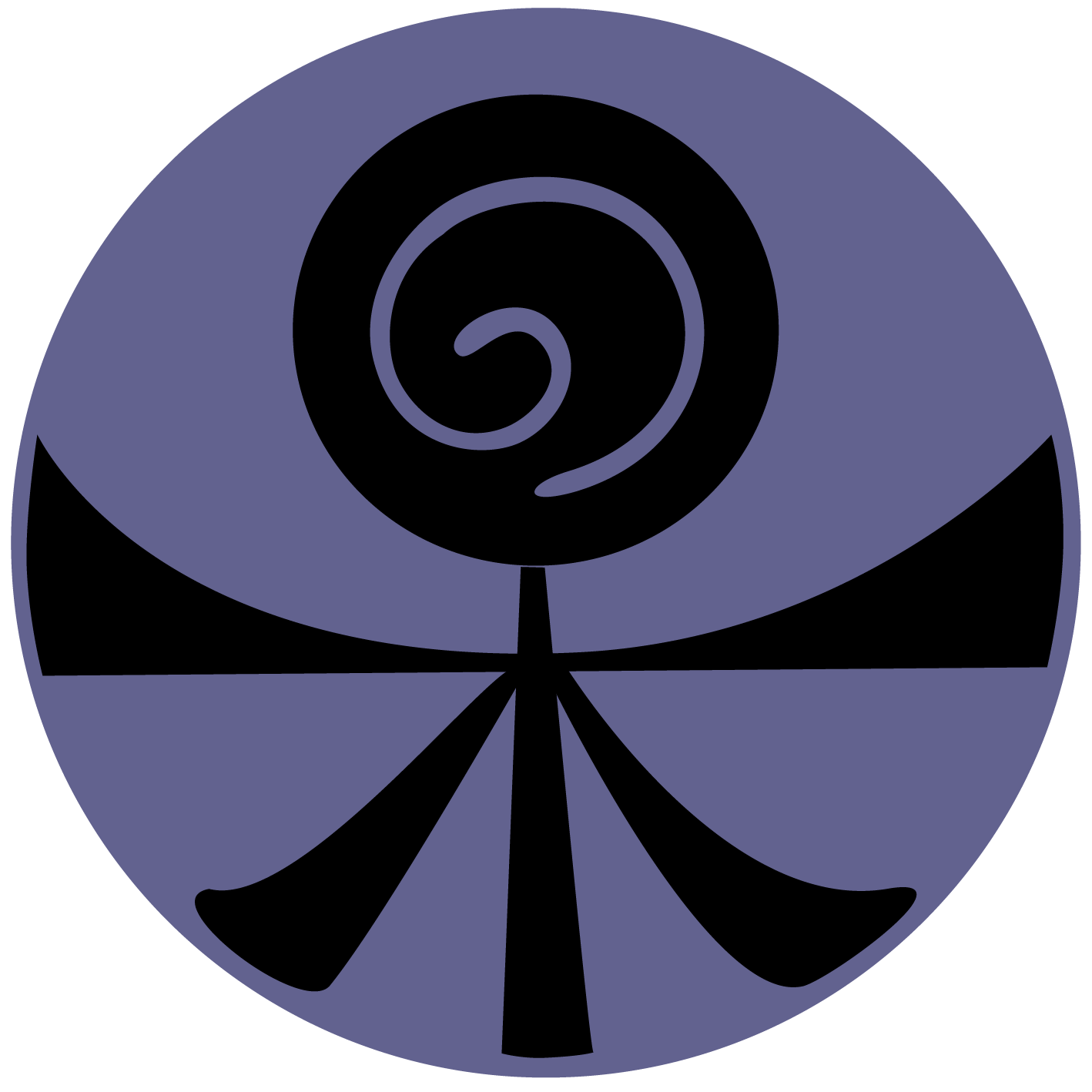 FUN FACT
Farewell Rituals in the Pacific
Listen to us on the podcast and learn about those rituals. In your cultures, how do you say goodbye to the dead? Are they alike, different? send us messages.
For now I share a very interesting ebook with symbols and meanings ..
Here you can explore the gastronomic route, tourism and lodging.
HOW TO KNOW THE GASTRONOMIC ROUTE
1. Click the play button in the middle of the map.
2. Use the arrow buttons (<o>) to open and close the control panel. In the panel you can activate, deactivate the routes and choose points of the route.
3. Choose GASTRONOMIC ROUTE and click on the marked spots to find photos and information that we collect for you.
I recomend you PERSONAJES PACÍFICO whith MARGARITA HURTADO
Learn about the Buenaventura Expedition here
Appellation of Origin: Colombian Pacific
This is our transmedia project that has been weaving year after year
Infinite thanks for reading and listening, I hope you continue to carry LA MOCHILA DESGUALANGA' with us, see you in the next chapter!
YOU WANT KNOW MORE ABOUT ?  Visit us blog.