national navy has organized everything for us to travel to Bahía Málaga, from there a Coast Guard boat will take us to Juanchaco, where Atanasia Gamboa, leader of the community and the Ebony Women's Association, awaits.
The experience of the Ship starts from the moment we arrive at the dock, we enter and there is a small delay on the way but the sun still does not rise and we are already traveling to our destination. We have hope to take advantage of all the time we can with the locals, to contact the indigenous community and to know much more about our host.
Once we went to sea, the team took the opportunity to take shots, everything looks different when the land moves away. The trip is a bit slower than it would be by boat, but it's worth it, it's quiet and comfortable. As we woke up so early it is a more than appropriate space to rest.
We arrived at Bahía Málaga at 8 in the morning, then it happened… What was a small problem at the entrance to the ship has now become a delay for our itinerary. In the authorization process, something went wrong and we cannot leave the waiting area of the National Navy base.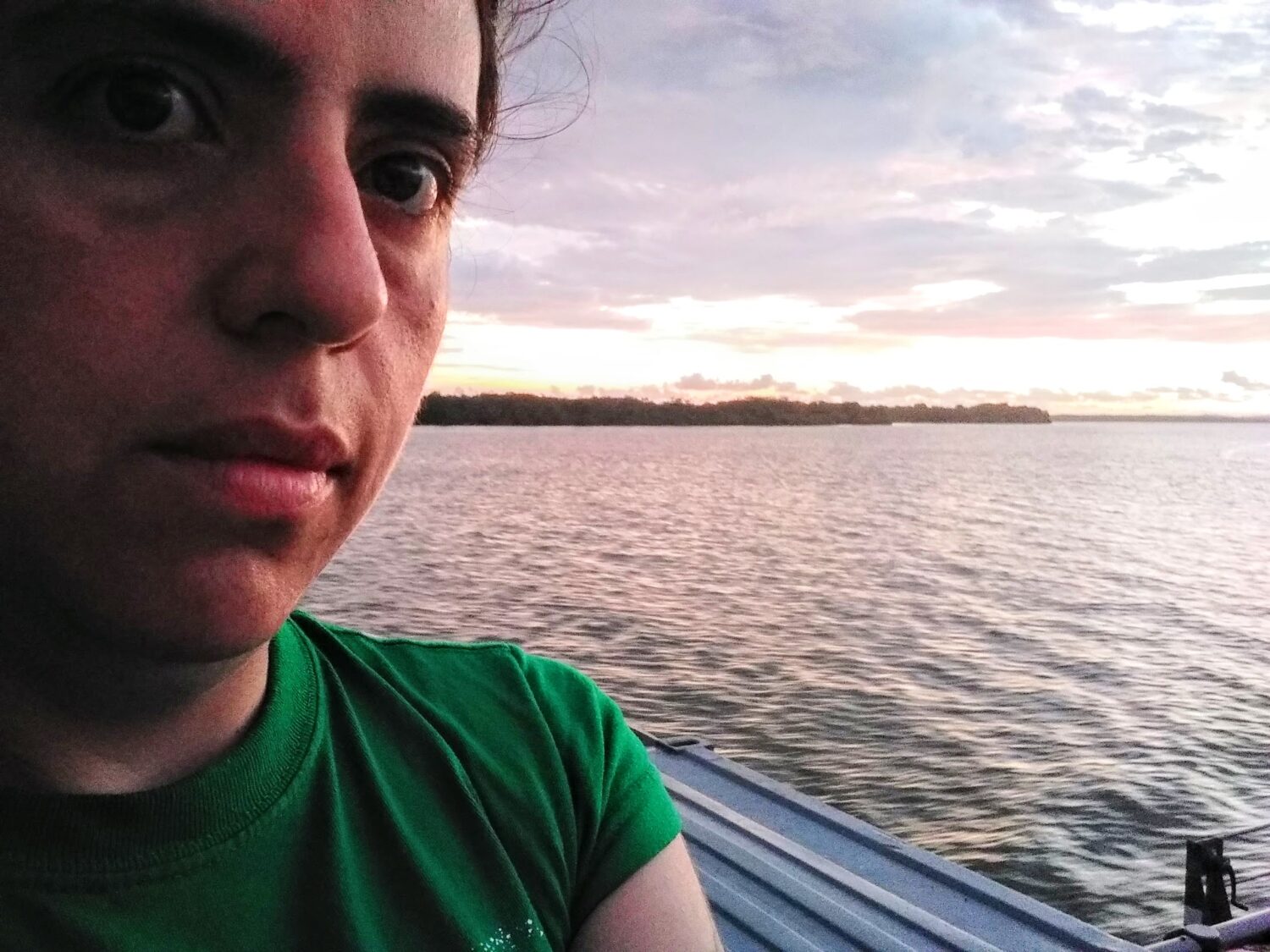 Julia on the way to the National Navy base in Bahía Málaga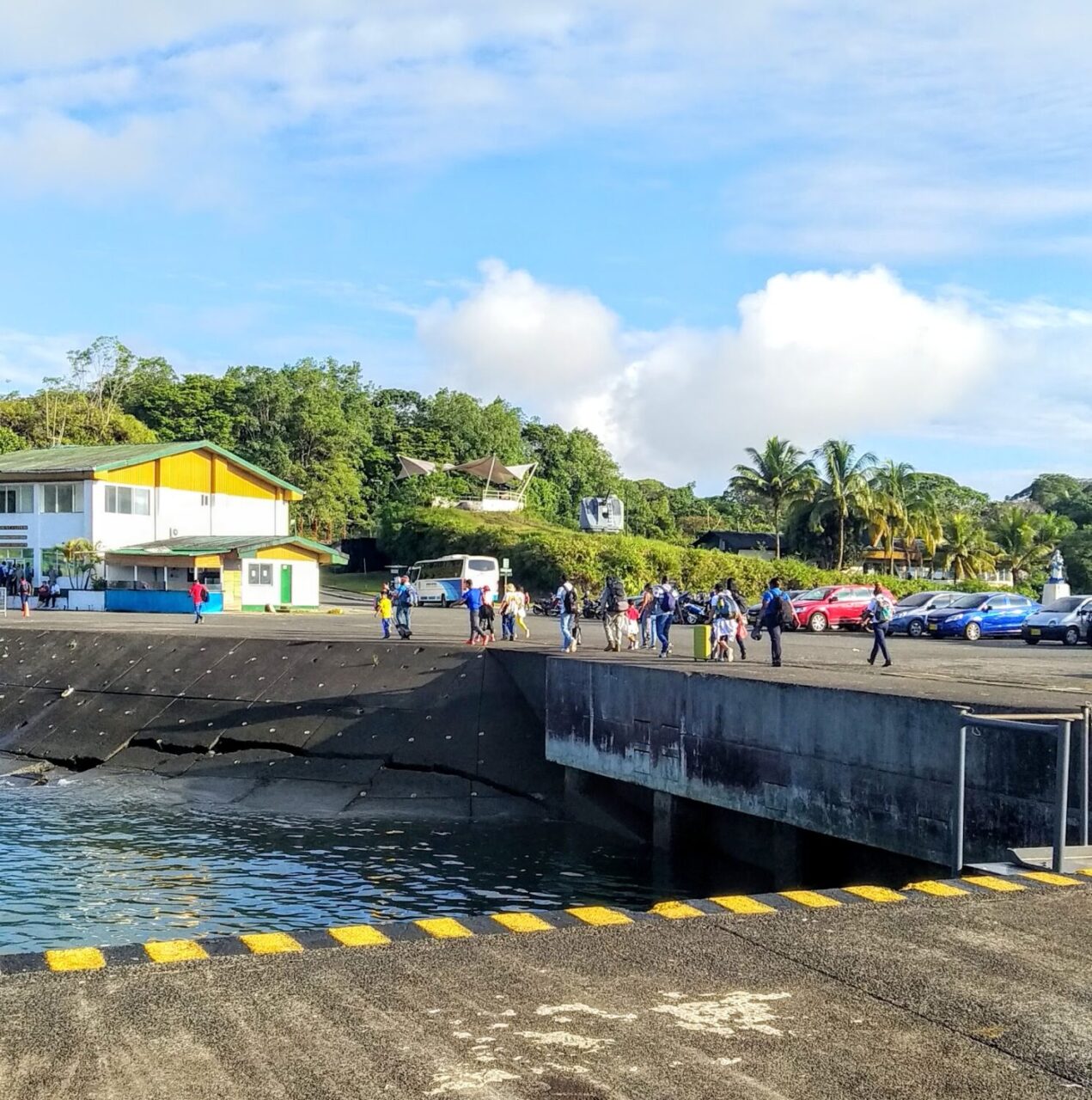 Arrival at the military base
Restless, after exploring our possibilities, we called our contact in Juanchaco to inform him that it will not be possible for us to arrive soon. Hours pass … We don't know what to do… We want to get there but the afternoon is approaching and we can't get out of Bahía Málaga, we're frustrated and think we'll have to return without having achieved our goal …. The managers and our contacts who have been communicating trying to solve everything, finally reach an agreement, we can continue our journey.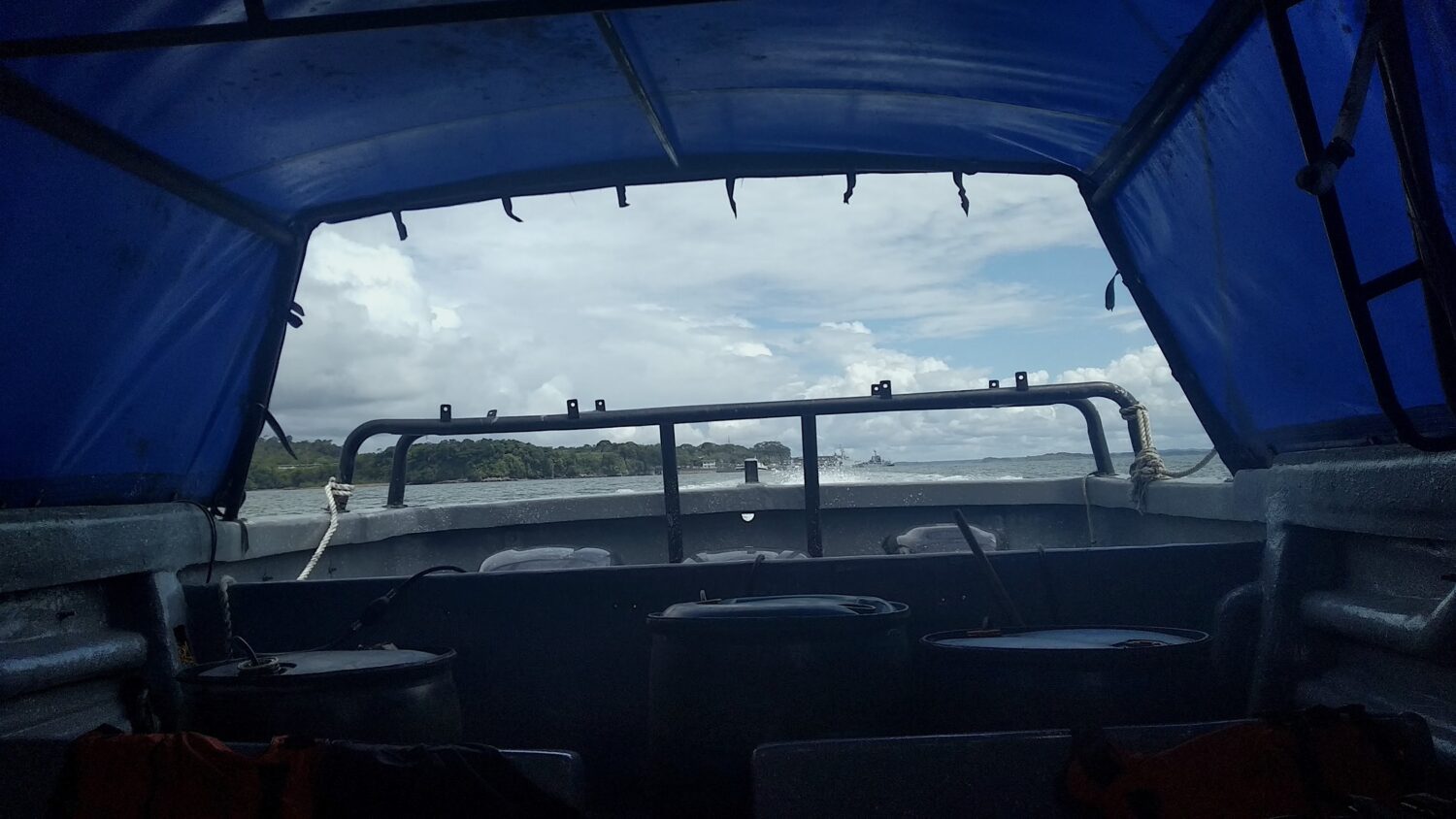 Finally arriving at Juanchaco 10:40 a.m.
On the way to meet our hostess
Doña Atanasia receives us, she has had infinite patience waiting for us, we thank her, unfortunately we will have to make a much shorter visit than we anticipated and we will not be able to go with her to Ladrilleros as we initially planned.
She kindly greets us and we begin to talk, we tell her what we want to do, about our APPELLATION OF ORIGIN project and the desire that moves us to make the Pacific Culture visible. She listens carefully and as soon as we finish talking she looks at us and decides to take us to the beach.
Everything is fine – says Atanasia – here we have many processes and it is necessary to make them known, and your project sounds very nice… At this point we had gone through various stages, from the joy of knowing that she would cooperate with us to the doubt that something was up and she promptly let us know what it was.
As we walk along the beach, Atanasia Gamboa clarifies to us that they no longer believe in the beautiful things that some outsider people promise them, because they have cooperated with several and the results have not been the best. She remembers with sadness the recycling project the community was involved with, the instructions on how to do it are all over the place, just like the plastic trash. According to what she tells us, after her community collected all the material in bundles, they came to collect it and without further notice, they tore the packages to get what they were interested in, leaving all the "useless" material scattered next to the stage where the artists play at parties. Who would take care of this or what can the community do?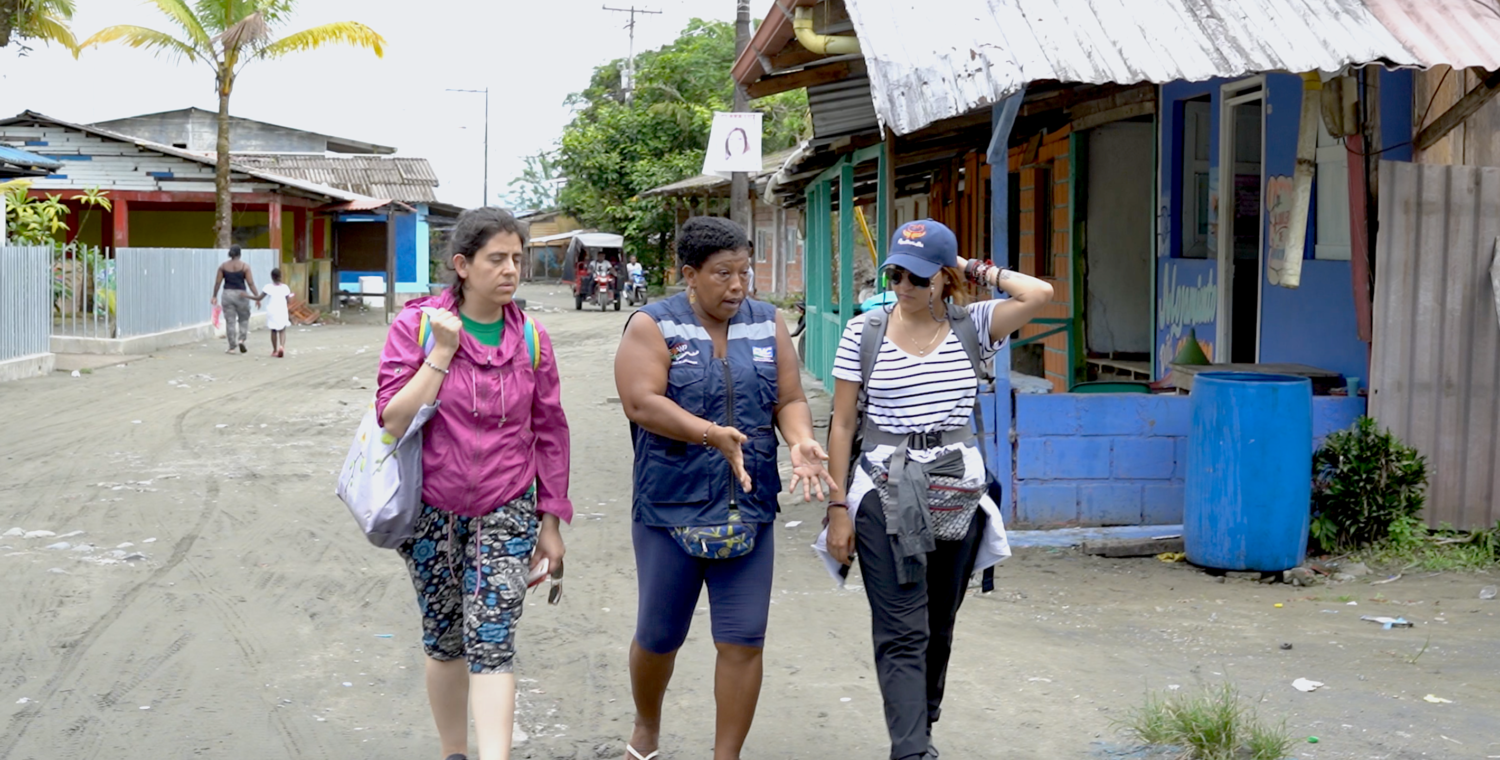 May, Atanasia and I talking as we walk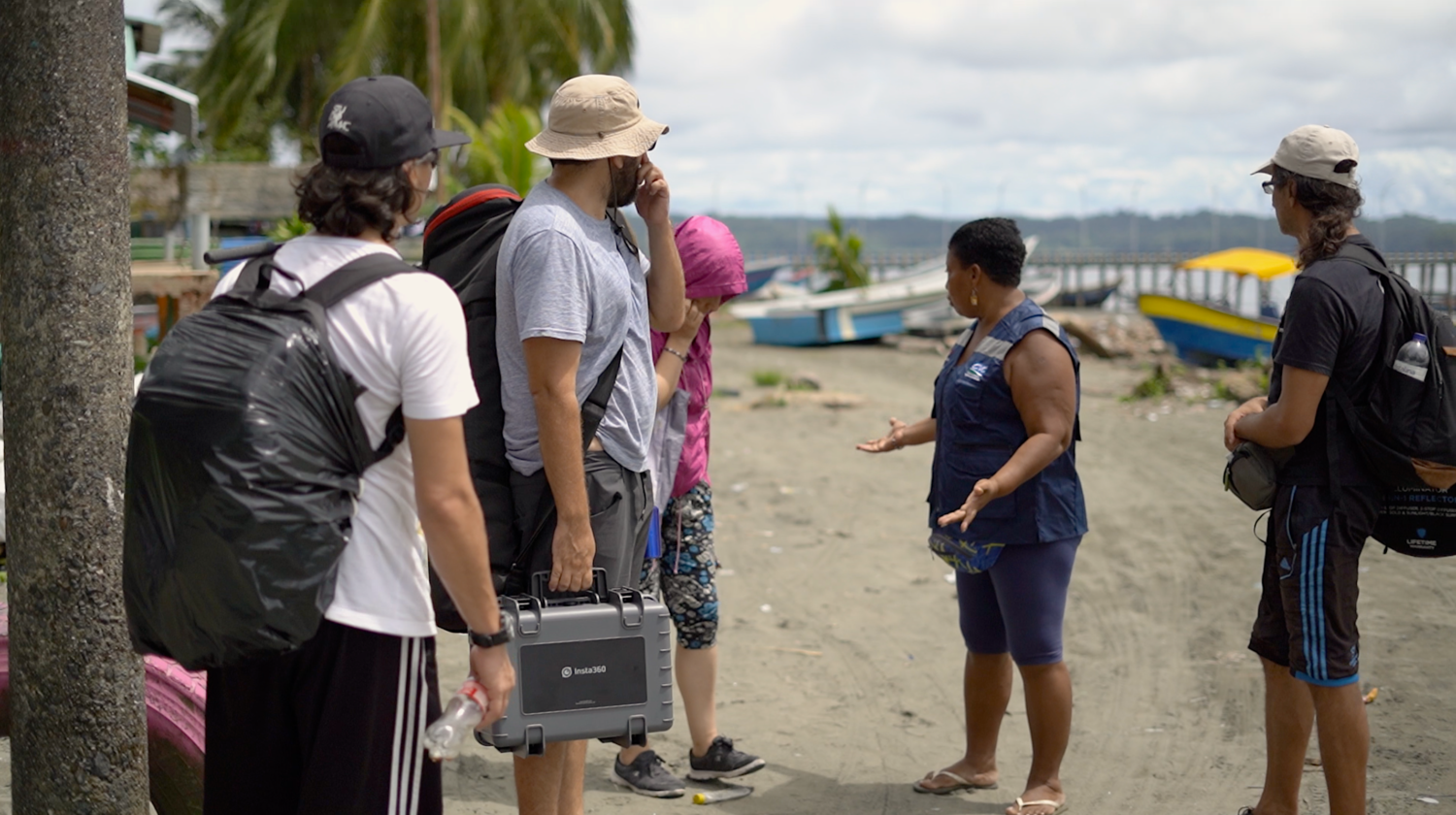 Atanasia dialogues with the team
For the first time we were silent for a moment, but those words will not be the last that we hear from Atanasia.
Overcome this moment, she begins to share with us talking about the initiatives and processes that they have in the association she leads, how it affects the lives of women, children and adolescents. The conversation flowed from that moment, the interview is one of the clearest and most impressive of our adventure.
Among the projects of the Ebony Women of Ladrilleros Association, El Sendero la Flor del Duende (The Elf Flower Trail) caught my attention.
The ecological-mythological path is guided by them, while they present the plants and birds that inhabit this place, they tell stories of characters that inhabit their territory and it is difficult to know if they are part of a legend or reality.
From the moment we got in touch with Atanasia, we had asked her if through the organization it was possible to contact the indigenous community, since it was a great debt in our investigation. The presence of the Afro-descendant community is so strong that it tends to overshadow the other ethnic groups and indigenous people that cohabit in the region.
She told us that taking us to the town hall would not be possible on this visit, but that she could connect us with an indigenous handicraft vendor who usually works in Juanchaco.
For me it was a joyful moment, after all I have a personal commitment to the recognition of native people.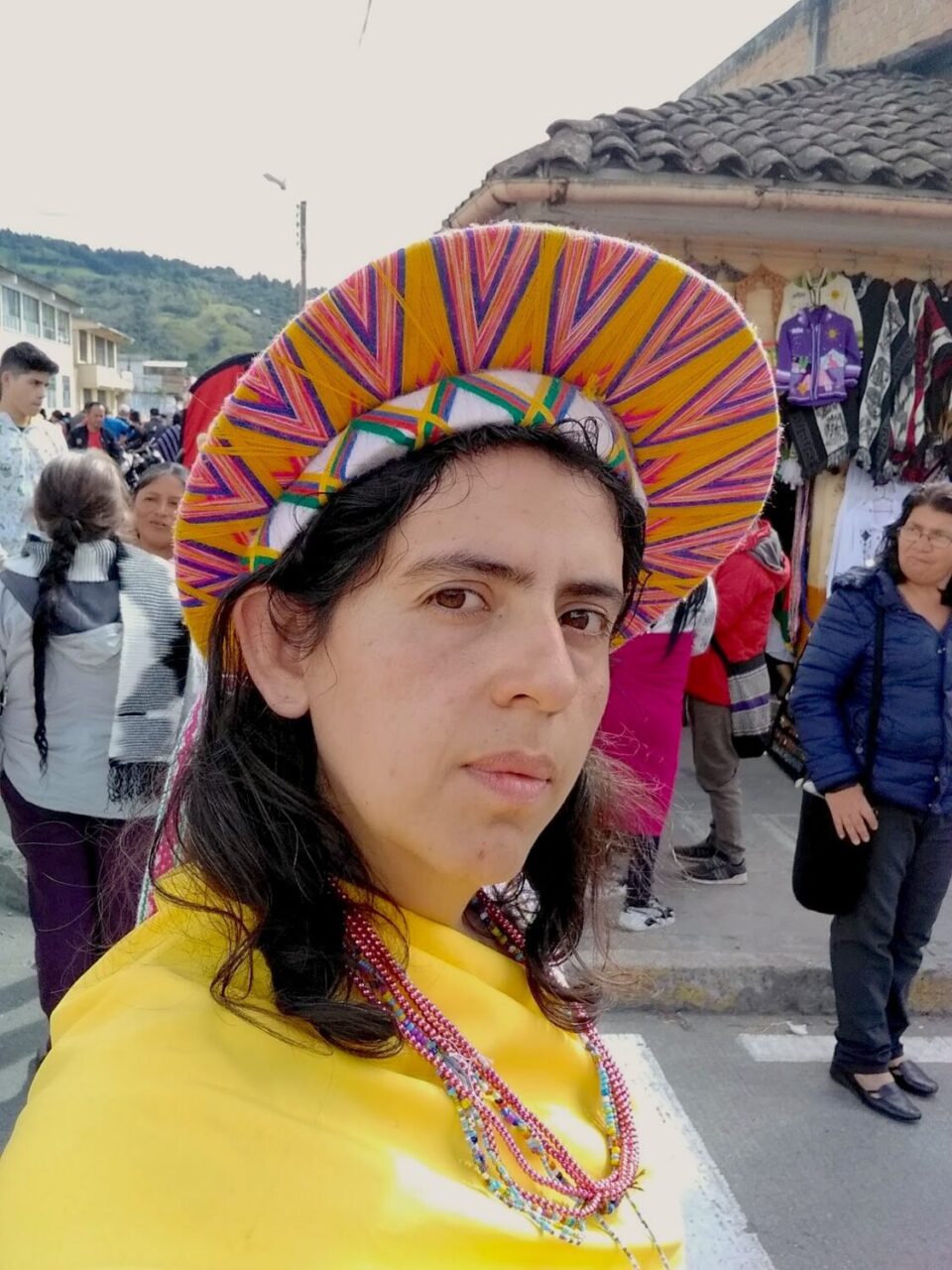 Here on my visit to Putumayo for the Big Day of 2020, known as Carnaval de Indios. I Must thank Carmen Juagibioy and the Cabildo Camëntzá de Mocoa and Valle de Sibundoy who usually receive me for these dates.
Talking with Cuarzo Kiro was interesting, he told us about his people, his family, his son, his daughter-in-law, some history and the presence of the Wounaan With a characteristic style of speaking these two languages, he gently tells us that they have been there for a long time, we ask him to speak to us in their language and he did. They have been here since Colombia was not Colombia and that the president himself knows that they are there before there were presidents.
At 4 in the afternoon the boat arrives again for us, we carry many stories from Juanchaco in the camera and in our minds, 3 characters: Atanasia Gamboa, Rosalbina Valencia and Cuarzo Kiro, stories that we share with you (see Logbooks Chapter 2). They are stories of family, effort and dedication. We are leaving now, with the responsibility of earning their trust.
Do you want to know more about the experiences lived on the second day of the Buenaventura Expedition? Here you will be able to hear in the protagonists voices how we got to Juanchaco.
Ombligando Pacífico!
(Naveling Pacific)
Fourth Podcast of La Mochila Desgualanga'
Written by:  May Mc'Causland
Narrated by:  May  Mc'Causland y Gustavo Angarita Jr.
Recorded and Postproduced by: Simón Jaramillo de Vinilo Estudio. 
Hello humans that are already living the expedition. I have compiled some photographs, videos and links from our second day. How we got to Juanchaco and met our hosts through Atanasia Gamboa of the Ebony Women's Association and that first approach with the Wounnan indigenous people.
I share several links of the recommended routes on the interactive map.
Thank you all for listening and reading.
We are happy to hear from you and we will be attentive to your messages.
See you soon to continue reviewing La Mochila Desgualanga'
The role of the Ebony Women
Knowing female empowerment
Our hosts
Wounnan women and craftsman
Sound Journey: Francia's Fight for the Preservation of the Ombligo (Navel)
Listen in the fascinating voice of Gustavo the recreation of the women of Cauca through their Ombligo.
Cauca our guest department
How we relate the department of Cauca with the earth element.
Fun Fact: Cure for Period Cramps
Hear in May's voice, the healing powers of plants, women must try it!
YOU WANT KNOW MORE ABOUT ?  Visit our blog.