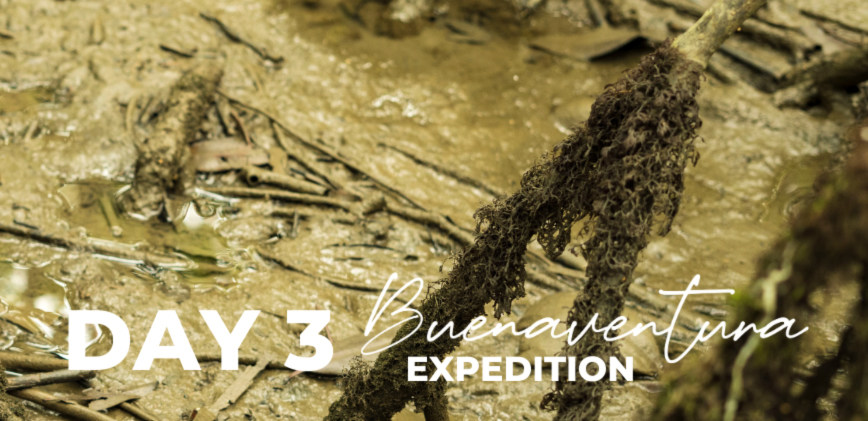 Song of High Tide
A town tied to the tides.
Margarita is a star and our guide in Playa Piangüita. Reciting poems, singing and pianguando in a territory where myth merges with reality, the notes of an alabao predict the proximity of death and women like Francisca are as skilled at cooking as they are at "shooting".
Nobody Dies Here Alone. Never! 
We make space in the backpack for the rites that accompany two inevitable moments of the one who lives: being born and dying. In a region where the music made company to both. Please discover with us how the Pacific communities live their joy and pain.
HOW TO KNOW THE ROUTE WE TRAVEL ON OUR VISIT TO PIANGÜITA.
1. Click the play button in the middle of the map.
2. Use the arrow buttons (<o>) to open and close the control panel. In the panel you can activate deactivate routes and choose route points.
3. Choose VIAJE / PIANGÜITA and click on the marked points to find photos and information about our experience in Buenaventura.
LOG DAY 3
We arrived at Piangüita Beach early, this time our luck was better, good for almost everyone, I nearly got myself naked when I got off the boat. Anyway, it thrilled me; the dawn schedule had worked, the transports had arrived on time, and our guide for the day made his triumphal entry without delay.
Get to know the character and his environment
Margarita between myths and legends keeps alive the tradition and the sacred respect for arrullos and alabaos.
Name: MARGARITA HURTADO
Rol:  Piangüera Asociación de Mujeres Multiactivas, Emprendedoras y Activas del Pacífico
Celphone: +57 321 8448003
Location: Playa Piangüita, Buenaventura
DOWNLOAD PACIFIC DELIGHTS 2