The film by director Carlos Ospina, produced by StudioAYMAC, has had a memorable tour of international festivals so far in 2021. Starting with its premiere in Berlin, then its presence in the United States reaching the cities of California in Riverside and Greater Apple in New York, to rejoice once again to be selected in one of the most important independent film competitions in South America.
For more than 15 years, Jade Jaguar Cinema Festival has highlighted the work of directors and creators, choosing pieces that stand out for their creativity and quality that they found in THE SHADOW OF YOUR SMILE to nominate it in the category of narrative short films.      
This year (2021) they will hold the event online from August 22 to 31, because of the pandemic.
THE SHADOW OF YOUR SMILE, starring Lagrimón played by Julian Díaz, Marleyda Soto as Soledad and Alvaro Rodriguez as Sombrita, narrates in satire the reality of the post-conflict in Colombia, and notoriously recognizes the social abandonment of the state. Although in many settings our protagonist has been recognized as the "Black Joker" the director has always commented that his inspiration comes from the stories of his childhood and a fixation on clowns as people and symbols loaded with so many meanings, which led him to write the script, which he had been working on since before the premiere of the famous film The Clown of Gotham City.
The film that had VALLE DEL CAUCA as its main setting, has the partition of an experienced Colombian professional artistic and musical team, that is part of the imagination and language of Ospina, -recognized music lover of Cali- . Precisely from the soundtrack, the participation of Yuri Buenaventura has been highlighted by the festivals, since his songs are a fundamental part of the short.
For more information about the festival, the categories and their philosophy, visit the festival's official website:
http://jadejaguar.org/en/year/2021/narrativeshort_selection.php
See the Official trailer 
See IMDB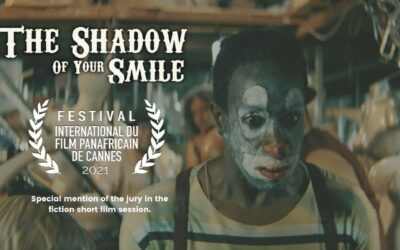 Carlos Ospina's film, collects its first prize in one of the most important stages for cinema worldwide, in the eighteenth version in ''THE FESTIVAL INTERNATIONAL DU FILM PANAFRICAIN DE CANNES'' (FIFP).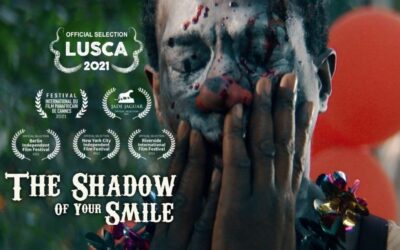 In the midst of the joy that the entire team of The Shadow of Your Smile produced by its nomination in "THE FESTIVAL INTERNATIONAL DU FILM PANAFRICAIN DE CANNES " (FIFP), one of the most important in this French city, Studio AYMAC and Ospina they have been surprised with a new and important selection, this time at the "LUSCA FANTASTIC FILM FESTIVAL" in Puerto Rico, which will also take place in October (2021) on dates very close to Cannes.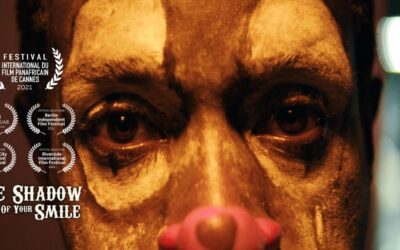 The film, directed by Carlos Ospina and produced by Studio AYMAC, arrives at Cannes, one of the most important spaces for world cinema, as part of the official selection in competition for ''THE FESTIVAL INTERNATIONAL DU FILM PANAFRICAIN DE CANNES" (FIFP)