The film promises to be one of the most ambitious productions in the country, directed by Carlos Ospina, will soon be releasing its trailer on digital platforms. Among the outstanding talents are salsa singer Yuri Buenaventura and actors Julián Díaz, Álvaro Rodríguez, and Marleyda Soto. 
The production company Studio AYMAC, that was behind productions such as The Beast, Between the Shadow and the Soul, Metro, Millennials, among others; Has been key along with the cast and the entire production team, filming in the city of Cali, a mecca of cinema in our country. And that now is the venue for major filming, it is the new rebirth of ''Caliwood''. 
The film tells the story of Lagrimón, a clown who falls in love with Soledad since he was a child. This love has led him to become a killer clown.  After living 20 years in the shadows, will he have the opportunity to change his course? 
It is a story that, through satire, shows the reflection of a society victim of the armed conflict and invites you to observe the realities of others, the person who hides behind a mask and who day by day fights against rejection and pain. 
For Studio AYMAC it has been an unforgettable experience to be part of this project, since it adjusts to the approaches they manage, such as social commitment and art cinema where they seek the internationalization of the short film. 
"Neither the fictional character of Lagrimon, Sombrita, and the Clown Clan, nor the film endorses violence, racism, or armed groups, nor is against the processes that promote peace. Our intention is not to create fanatics, but rather to satirize the society in which we live". May Mc'Causland, CEO & Executive Producer of Studio AYMAC.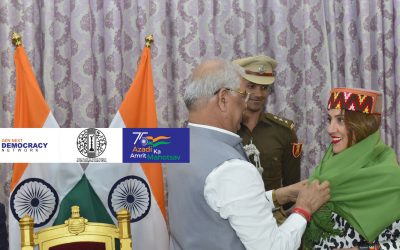 May Mc'Causland CEO, founder and executive producer of Studio AYMAC was selected by the ICCR (Indian Council of Cultural Relations), along with 4 other entrepreneurs, to be part of the Colombian delegation in the 6th edition of the GEN NEXT DEMOCRACY NETWORK program created by the Ministry of Foreign Affairs of India and which, within the framework of its 75 years of independence, took them to discover the north of the country in the last few days of the month of October.