The film produced by Studio AYMAC, nominated for best short film at the 12th Berlin Independent Film Festival (BIFF), ARRIVES IN BERLIN WITHOUT DEBT and as a sign that you can make profitable cinema in the country.
Thanks to the private investment that Law 814 favors, it has been possible to tell a different story that experiments with narrative forms; an independent author's work that bets on the nascent national film industry.
Studio AYMAC, raised a budget of over 200 million to make this 18-minute film of great bill, which was made a reality with the work of over 70 talents.
The example of success of The Shadow of Your Smile is a way to put Law 814 to use so that the industry can strengthen itself regardless of the awards that can be obtained in institutional calls. 
The idea of ​​Studio AYMAC is to encourage the growth of the film industry, taking advantage of current laws for the benefit of projects, believing in a sustainable and profitable industry.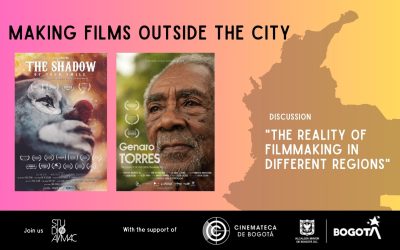 Making films in the regions is a commitment we have had since the creation of Studio AYMAC over 7 years ago. Today, we can affirm that this journey filled with adventures has allowed us to tell stories in unexplored places, facing unique challenges, and proposing diverse production schemes where the only non-negotiable element is quality, not only in terms of technical equipment but also in the well-being of the filmmakers, safety, and every link in the legal chain.