The film produced by Studio AYMAC, nominated for best short film at the 12th Berlin Independent Film Festival (BIFF), ARRIVES IN BERLIN WITHOUT DEBT and as a sign that you can make profitable cinema in the country.
Thanks to the private investment that Law 814 favors, it has been possible to tell a different story that experiments with narrative forms; an independent author's work that bets on the nascent national film industry.
Studio AYMAC, raised a budget of over 200 million to make this 18-minute film of great bill, which was made a reality with the work of over 70 talents.
The example of success of The Shadow of Your Smile is a way to put Law 814 to use so that the industry can strengthen itself regardless of the awards that can be obtained in institutional calls. 
The idea of ​​Studio AYMAC is to encourage the growth of the film industry, taking advantage of current laws for the benefit of projects, believing in a sustainable and profitable industry.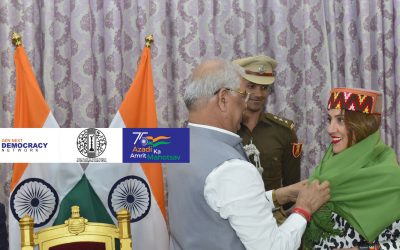 May Mc'Causland CEO, founder and executive producer of Studio AYMAC was selected by the ICCR (Indian Council of Cultural Relations), along with 4 other entrepreneurs, to be part of the Colombian delegation in the 6th edition of the GEN NEXT DEMOCRACY NETWORK program created by the Ministry of Foreign Affairs of India and which, within the framework of its 75 years of independence, took them to discover the north of the country in the last few days of the month of October.