One of the most ambitious short films in the country is nominated for best short film for the 12th Berlin Independent Film Festival (BIFF).
This version is hosted by Miltos Yerolemou, an actor from Game of Thrones, Danish Girl and Star Wars: The Force Awakens; It will be held from February 11 to 15 this 2021 through its digital platforms for the first time, complying with the preventive measures established in Germany due to the pandemic.

THE SHADOW OF YOUR SMILE by director Carlos Ospina is a psychological drama that reflects the Colombian social reality through satire. Studio AYMAC, a production house, brought together a team of great international experience such as, salsa master Yuri Buenaventura, the musicians of Manteca Blue & The Latin Corner and La Selecta Orchestra; talents that make this short film a great love story '' in the happiest country in the world ''.
The actors Julián Díaz, Álvaro Rodríguez and Marleyda Soto are the protagonists of this film made in Cali.
We are all clowns!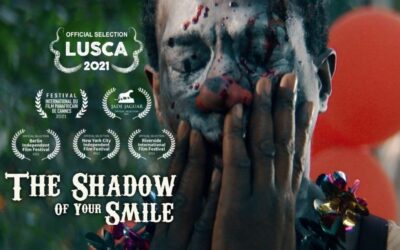 In the midst of the joy that the entire team of The Shadow of Your Smile produced by its nomination in "THE FESTIVAL INTERNATIONAL DU FILM PANAFRICAIN DE CANNES " (FIFP), one of the most important in this French city, Studio AYMAC and Ospina they have been surprised with a new and important selection, this time at the "LUSCA FANTASTIC FILM FESTIVAL" in Puerto Rico, which will also take place in October (2021) on dates very close to Cannes.